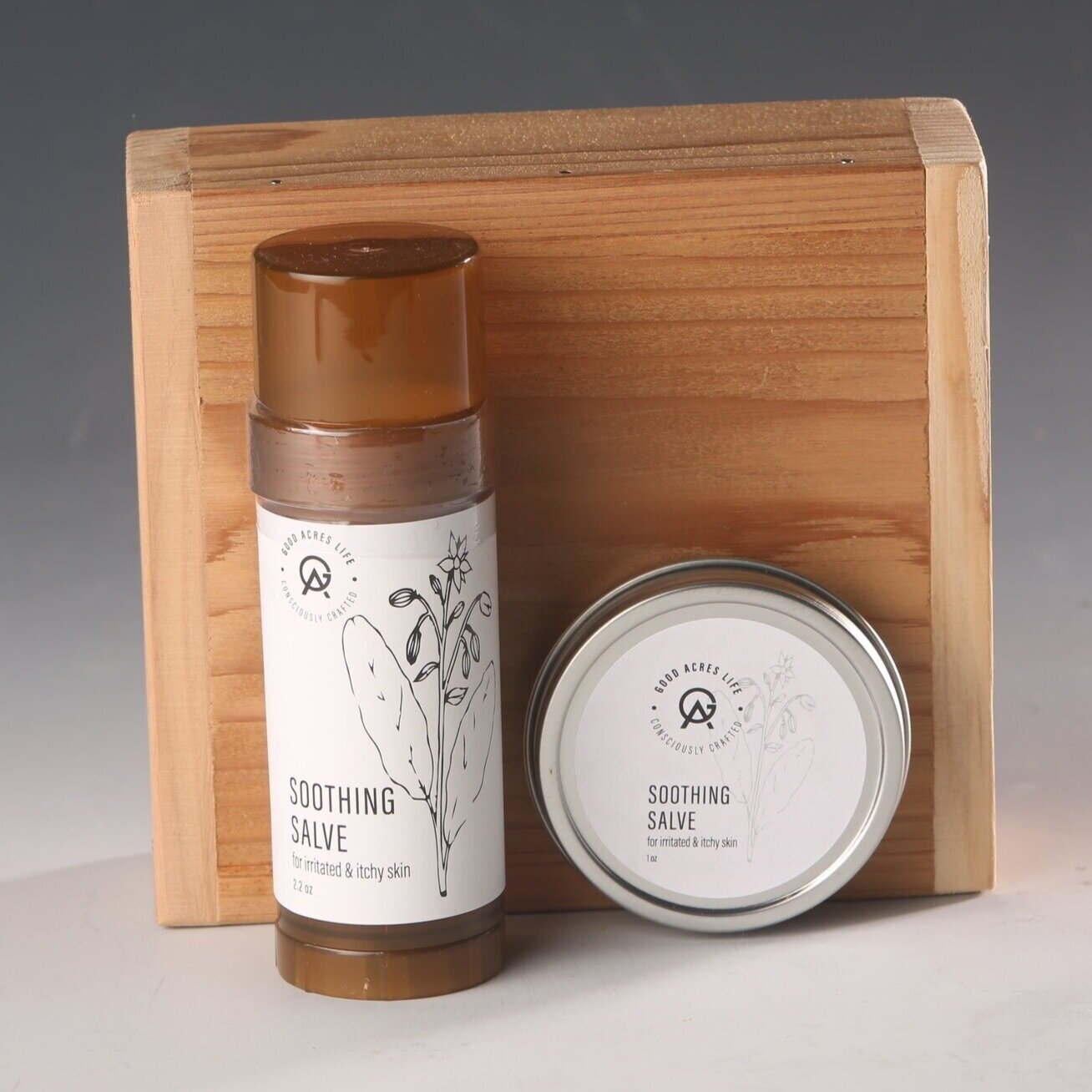 Soothing Salve
Our Soothing Salve begins with infused borage and calendula organic olive oil, organic Babassu oil, and Candilla wax. Plant based moisture barrier and moisture adding ingredients make this salve animal ingredient free.
We grow our own Borage and Calendula for use in our salve. We harvest these flowers each day between June-September. The petals are then infused into USDA certified USA grown olive oil to capture the anti-inflammatory properties of the flowers. We grow using organic practice in our 8 year old garden.
Bug bites, scrapes and bruises will benefit from Soothing Salve. Soothing Salve reduces redness, swelling and calms skin within 10-15 minutes. Most mosquito bites are only a memory. Several of our test humans have eczema and psoriasis and have reported relief from itching with a calming effect. We also have users who enjoy as a light lip balm and baby bum salve for red irritated diaper areas.
Borage, Calendula, organic Lavender and organic Ravensara oils contribute to a light, slightly herbaceous aroma. Each of these essential oils offer antibacterial properties and reduce redness while calming skin irritation.
ROLL-UP use- Remove cap, slowly roll up to expose a small amount of salve. If applying over open skin or scrapes wash area prior to application. Gently apply over irritated areas, rub in with fingers for a few minutes if necessary.
This product should not take the place of a visit to your doctor if you have open cuts or wounds. Washing the effected area well with soap prior to application is suggested. Always consult your doctor if cuts or wounds are not healing. We care about you.
Hand poured into our PET amber tube which protects the blend inside.
We test on our favorite humans and never on animals.